These Keto Butter Cookies are buttery, melt-in-your-mouth shortbread biscuits with a delicious almond vanilla flavor and crunchy chocolate shell. Bonus, these almond flour butter cookies are also gluten-free and paleo-approved.
As a French girl, I would probably call these cookies Sables or Danish biscuits. I grew up eating these authentic biscuits for Christmas, and this year I created a low-carb version of my old-time favorite. Enjoy these low-carb butter cookies and travel to Europe from the comfort of your home.
What Are Keto Butter Cookies?
Keto Butter Cookies are different from keto almond flour shortbread or keto coconut flour shortbread cookies. In fact, butter cookies have more butter, and their texture is softer and moister.
That makes these cookies pipeable to create different cookie shapes, such as these beautiful cookies decorated with chocolate shells and Christmas sprinkles.
How To Make Low-Carb Butter Cookies
Even if these gluten-free butter cookies look fancy, they are pretty easy to make. All you need are 5 ingredients:
Ingredients
All you need to make these sugar-free butter cookies are:
Almond Flour – as always in my almond flour recipes, I am using ultra-fine blanched almond flour with a light texture and golden color. It's way better than an almond meal that makes cookies dark in color and quite grain.
Softened Butter – don't use coconut oil in this recipe. It won't work at all.
Large Eggs – you can't use egg replacers in this recipe. It won't work.
Vanilla Extract
Powdered Sweetener – I am using keto powdered sweetener like erythritol or allulose.
Beating Butter And Sweetener
First, place the butter and sweetener in a large mixing bowl or the bowl of your stand mixer.
With a hand beater or the paddle attachment of your stand mixer, beat the ingredients for 1 minute on the high-speed setting until the butter is fluffy and pale in color.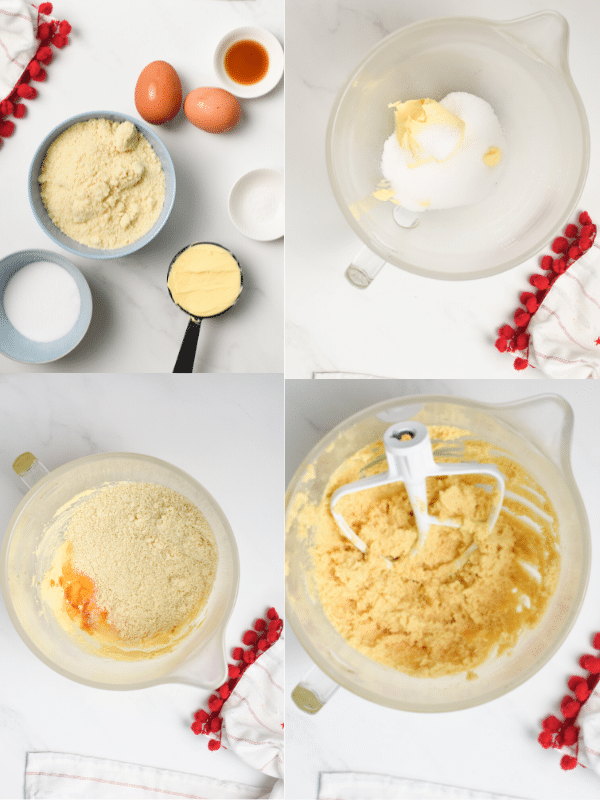 Stirring In Remaining Ingredients
Now, add the eggs, almond flour, vanilla, and a pinch of salt. Beat again on the medium-speed setting until it forms a wet cookie dough.
Preparing The Baking Sheet
Preheat the oven to 350°F (180°C). Line two cookie sheets with parchment paper and oil the paper with coconut oil. Set it aside.
Shaping Butter Cookies
Is it easy to pipe butter cookie dough? Well, it depends on the material you are using. To make the process much easier you have three options.
Piping Bag – Use a pastry piping bag, they are stronger than single-use plastic bags that will break easily here, and add a large piping tip. Small piping tips are not recommended because the cookie dough will jam the tip and never go through.
Cookie Press – this is the ultimate tool to pipe cookies. It's robust, made of a rigid tube and different piping shape.
Spoon – if you don't have any of the tools above, don't stress out. Simply oil your hand, roll dough balls, and slightly press down on a baking sheet to form cookies.
Baking
A beautiful butter cookie should have a light brown color so my tip to achieve that perfect color is to lower the oven temperature after 10 minutes in the oven.
Bake the butter cookies at 350°F (180°C) for 10 minutes, then lower the oven temperature to 325°F (160°C) and keep baking for about 5 minutes. The butter cookies should be slightly golden brown on the pipped edges but still light in color.
Cooling Down
First, cool down the almond flour cookies on their baking sheet for about 10 minutes. Then, slide a spatula under each cookie and transfer to a cooling rack to fully cool down.
Decorating
This is up to you, but honestly butter cookies and chocolate is heaven and highly recommended. In order to make a crispy thick sugar-free chocolate shell on half of your butter cookies you need two ingredients:
Sugar-free chocolate chips – you can use semi-sweet or dark chocolate chips or even sugar-free white chocolate chips
Coconut oil
Melt both ingredients in the microwave, in a microwave-safe bowl in 30-second bursts, stirring between each.
When the chocolate is fully melted and the cookies are cool down to room temperature you are ready to decorate them.
Hold one cookie on one side and dip the opposite side into the melted chocolate. Hold the cookie above the bowl of melted chocolate for a few seconds to give the chocolate time to run back to the bowl.
Next, place each dipped cookie onto a plate covered with lightly oiled parchment paper.
Pop the plate in the fridge for 1 hour to set the chocolate shell hard – or 10 minutes in the freezer for faster cookie decoration.
Other Decorations
If you fancy some more festive decoration on top of your butter cookies, you can add some of the keto-friendly options below:
A pinch of salt
Desiccated coconut
Crunched peanuts
A drizzle of melted white chocolate
Keto sprinkles
Sliced almonds
Storage
These butter cookies are perfect to make ahead during the holiday season and store up to 1 week in the fridge. I recommend storing cookies in an airtight container to keep the texture and flavor intact.
You can also freeze the cookie or the unbaked cookie dough. Thaw the cookies at room temperature the day before serving or, for cookie dough, thaw in the fridge.
More keto cookie recipe ideas
I love creating keto Christmas cookie recipes to share with family and friends and below are my favorite low-carb Christmas cookie recipes for you to try:
Have you made these paleo butter cookies? Share a comment or review below to connect with me.
XOXO Carine
Skip to content